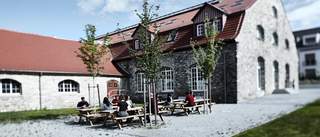 Your new dream
workplace.
Discover our office in Bad Nauheim amongst sumptuous Art Nouveau buildings, green parks and the famous Frankfurt am Main skyline. Here, we have the perfect conditions to give our creativity free rein.
Our goal is to create the best workplace you can imagine
We strive to continuously improve our working conditions. This is one of the reasons we moved in 2019 to our new office in Bad Nauheim – it's perfectly tailored to our requirements.
Now our mobile games, which are popular worldwide, are being created in a unique historical monument, Alte Saline, built in 1911. We have integrated state-of-the-art technologies into over 1,800m2 of space, maintaining the authentic charm of the former salt store in perfect harmony with the requirements for the protection of historical monuments.
We have created a workspace full of highlights, and every corner reveals our attention to detail. Benefits include flexible workstations with adjustable desks and ergonomic chairs, a wide selection of thoughtfully designed, themed meeting rooms, individual and group offices, an extensive downtime area with a bistro, pool table, coffee machine and table football, as well as a cosy rest area including a garden, sun terrace and a view of the Taunus Mountains. At the same time, we are protecting the environment and resources by saving water, using only renewable power and installing a ventilation system with heat recovery, to name just some examples.
Working how and where we like, thanks to flexible and ergonomic workstations: the studio is used primarily by the Game Teams. There is a swing, beanbags and a sun terrace here too.
Come and see our Boarding Apartment!
Our company flat, which we call the Boarding Apartment, is available for visitors and for future employees. It is a short hop from the office and is equipped with everything you need to make you feel at home.
Of course, you can also work remotely, but then you would miss out on all this. If you would rather start onsite at Lotum, you are welcome to stay in our Boarding Apartment until you have found your own apartment.